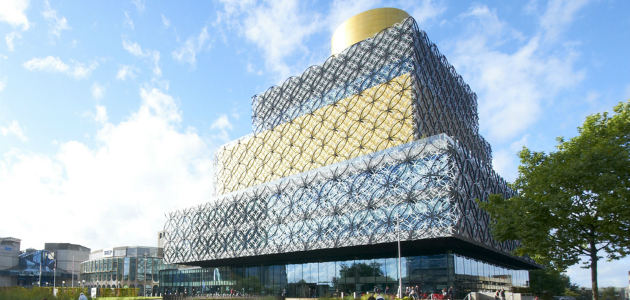 The proposal to bring libraries, learning and languages together at the Library of Birmingham and extend its opening hours again will take another step forward after some essential work over Christmas.
From 1 February 2016 a range of 'self-service' options for users will be available from 9am to 9pm, Monday to Friday, in addition to existing services.
Councillor Penny Holbrook, cabinet member for skills, learning and culture, said:  "Last summer's decision to move the nationally renowned Brasshouse language service to the Library of Birmingham means that the service will be able to connect with even more learners within a world class setting – and the Library of Birmingham can extend its opening hours again.
"For that to happen we need to carry out some essential work so the Library of Birmingham will close for three additional days over the Christmas period, meaning minimum disruption for library users.  Once that work has been completed we can then continue will less invasive changes and from February people will be able to use the library before and after the current opening hours for key services on the ground floor."
The library will close at 5pm on Christmas Eve and reopen at 11am on 4 January as usual.  Most of the days during this period are public holidays so there will in fact be just three additional days closure.
From 1 February 2016, the increased 'self-service' offer – "LoB Express" – will include access to:
popular fiction and non-fiction books, special collections and promotions
book borrowing and returns
library registration and reservation service
study space, access to free Wi-Fi, use of computers and printing facilities
The opening hours from 1 February 2016 will be as follows –
Full service:  Monday and Tuesday 11am – 7pm, Wednesday to Saturday 11am to 5pm
"LoB Express" on the ground floor:  Monday to Friday 9am – 11am, Monday and Tuesday 7 – 9pm and Wednesday to Friday 5 – 9pm.
-ends-
For further media information contact Press and PR officer Debbie Harrison on 303 4476