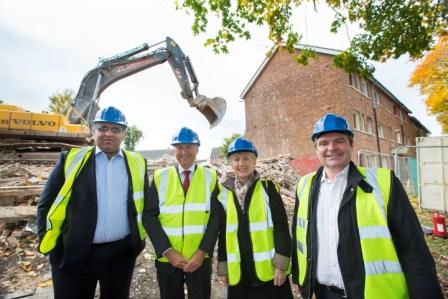 Work is under way to demolish four underused maisonette blocks in Shard End to make way for 12 new family homes built by Birmingham Municipal Housing Trust (BMHT), Birmingham City Council's award-winning house-building programme.
The three-storey maisonette blocks, built in 1955, have been in low demand and are considered to be economically unviable to refurbish.
The site has now been earmarked for development by BMHT, with 12 new properties consisting of four two-bedroom houses, four three-bedroom houses, three four-bedroom houses and a dormer bungalow. Once completed, all properties will be available for rent.
Councillor Tahir Ali, Cabinet Member for Development, Transport and the Economy, said: "As well as closing the housing gap, this administration is also committed to providing the types of homes that people need.
"The blocks in question are dated and there is now little demand for this type of accommodation, so I am delighted that this land is being cleared to make way for 12 new homes of different sizes which will better meet the housing needs of Birmingham families.
"Bringing new homes to local people is one of the most rewarding parts of my job and this is yet another example of Birmingham Municipal Housing Trust's forward-thinking – and award-winning – house-building strategy."
-ENDS-
Picture shows (l-r) Cllr Tahir Ali, Cabinet Member for Development, Transport and the Economy, and Shard End ward councillors Ian Ward, Marje Bridle and John Cotton at the site of the demolition in Cat Lane.
A high-resolution version of this photograph is available on the Birminghamnewsroom Flickr feed here.