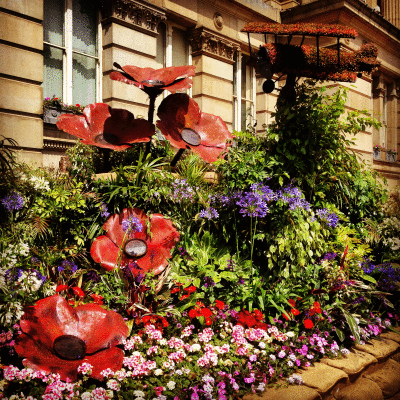 12 Days, 18 Judges, 70 Finalists and 1 Champion of Champions: The Britain in Bloom with the RHS 2015 UK Finals Judging Tour comes to Birmingham on 7 August
From Coupar Angus to Jersey, Great Yarmouth to Derry, over a 12-day period starting on Monday, 3 August, nine pairs of Royal Horticultural Society (RHS) judges will see them all, as the 2015 Britain in Bloom with the RHS UK Finals Judging Tour hits the road in search of the very best in community horticulture.
And on 7 August they're coming to Birmingham!
Last year Birmingham scooped Gold at the Heart of England in Bloom awards in the Large City category, was overall Heart of England in Bloom winner, and picked up an Horticultural Excellence Award for the World War One trench display, currently on display in Victoria Square.  As a result, Birmingham was selected to represent Heart of England in Bloom in the UK finals of Bloom this year.
On Friday, 7 August, RHS judges Mel Henley and Nigel Bishop will meet community representatives and go on a tour of local projects including Sarehole Mill, The Dingles, Guinea Gardens, St Philips Cathedral, Victoria Square and Library of Birmingham.
Lord Mayor Cllr Raymond Hassall said: "I am delighted to welcome the RHS judges to Birmingham. In Bloom gives us a great opportunity to show off Birmingham's wealth of floral displays, parks and our wonderful green environment in general. We are particularly keen to show the contribution our thousands of volunteers make in improving the lives of residents, workers and visitors to our city and I'm keeping everything crossed that we are recognised with best in category at the awards ceremony in October."
Roger Burnett, Chair of the RHS Britain in Bloom judging panel, said: "Many see Britain in Bloom with the RHS as a competition of floral skill but spectacular displays make up only a small part of the judging criteria. We're keen to see how the finalists have used public green spaces for the benefit of their communities, supported local wildlife and considered the environment in their efforts. I'm sure my fellow judges would join me in wishing good luck to all the 2015 finalists."
Taking into consideration three key criteria – horticultural achievement, community participation and environmental responsibility, demonstrated across public spaces such as town or city centres, parks and communal gardens, as well as natural spaces including conservation areas and wildflower meadows – each group's final score also takes into account a whole range of complementary factors, from the condition of street furniture to the engagement of young people in Bloom activities.
More than 3,500 volunteers have invested over 48,000 hours to earn Birmingham a place in this year's finals, transforming derelict land into community gardens, brightening up streets with floral displays, growing produce, and so much more. As part of their commitment to creating green spaces in their communities, this year's finalists have together planted an astonishing 2,000,000 plants, trees and bulbs over the past year.
Each finalist will be awarded a Gold, Silver-Gilt, Silver or Bronze medal. There is also an award for best in category, as well as special discretionary awards given for achieving excellence in particular fields.
-ENDS-
 For more media information about Birmingham's entry, contact Debbie Harrison at the Birmingham City Council press office on 0121 303 4476.
For more media information about Britain in Bloom contact Ed Horne in the RHS Press Office on 020 7821 3356 or email edhorne@rhs.org.uk
For more information on RHS Britain in Bloom visit www.rhs.org.uk/communities
Each finalist location includes a designated media moment as part of their judging tour – please contact the RHS Press Office to be considered for accreditation.
Notes to Editors:
Background information about Birmingham's successes with Heart of England in Bloom, Britain in Bloom and Entente Floral –
Since 2003, Birmingham has taken part in the Heart of England in Bloom campaign.
The Heart of England In Bloom campaign brings together service areas across the City Council – including Parks and Nature Conservation, Fleet and Waste Management, Highways, Bereavement Services, City Centre Partnership and the Business Improvement Districts. It also enables us to highlight the work carried out by volunteers across the city, for instance, Birmingham Open Spaces Forum, the umbrella group for all parks Friends groups.
In 2012, Birmingham won the Gold Award and Category Winner in the Large City Category at the Heart of England in Bloom Awards.
As the Winner of the Overall Heart of England in Bloom Awards, Birmingham also had the opportunity to enter the Large City Category in the National RHS Britain in Bloom Awards 2012. In the RHS Britain in Bloom Awards 2012, Birmingham was awarded Gold and Category Winner in the Large City Category. Birmingham also received a RHS Britain in Bloom Horticultural Award for best floral displays, and Cannon Hill Park was awarded the RHS Britain in Bloom Public Park Award. Birmingham was also shortlisted for the RHS Britain in Bloom Pride of Place Award.
In 2013, Birmingham represented the United Kingdom in the European Entente Florale competition, as well as entering Heart of England in Bloom. Birmingham was awarded Gold at the prestigious Entente Florale, and Eastside City Park gained an 'Outstanding Public Green Space' Award. Birmingham also scooped Gold at the Heart of England in Bloom awards.
2014 was another fantastic year for Birmingham in Bloom, scooping not only the Large City Category – Gold at the Heart of England in Bloom awards, but also Category Winner, overall Heart of England in Bloom winner, and an Horticultural Excellence Award for the World War 1 trench display. Due to our fantastic entry, we have been nominated for the National Britain in Bloom 2015 Awards in the Large City Category.
Britain in Bloom with the RHS
Britain in Bloom started in 1964 and over 50 years on is now a UK-wide campaign with a strong focus on environmentally responsible practices, and bringing people together. Finalists work with a number of supporting organisations to transform their communities, from local businesses to schools, hospitals and prisons. Nine of this year's finalists are working with a nearby prison to encourage horticulture as a means by which inmates can develop new skills while making a rewarding contribution to their wider community. In fact, more than half of finalists cite the biggest benefit of being involved in Bloom as bringing the community together. 33% said it is having cleaner and greener surroundings, while 27% say increased civic pride is the most notable impact. Other benefits include improved local economies, better profile of area and a reduction in crime and antisocial behaviour.
UK's biggest community gardening campaign involves up to 300,000 passionate local volunteers who work year-round to keep our neighbourhoods and streets green, clean and thriving.
Bloom was started by the British Tourist Authority as a way to attract visitors to the UK through floral displays. In 2001, the RHS took over as organisers and have developed the campaign to include greater focus on community participation and environmental responsibility.
In 2006, the RHS launched a new grass roots level for Bloom – It's Your Neighbourhood (IYN) – aimed at small volunteer groups (such as youth groups, 'Friends of' groups, etc.) and has grown from 342 to nearly 2,300 groups.
Since 1964, Bloom has evolved from what many saw as a rural hanging basket competition to a major socio-environmental campaign that is improving villages, towns and cities across the UK.
About the RHS
The Royal Horticultural Society was founded in 1804 by Sir Joseph Banks and John Wedgwood to inspire passion and excellence in the science, art and practice of horticulture. Our vision is to enrich everyone's life through plants, and make the UK a greener, healthier, happier and more beautiful place. We believe everyone in every village, town and city should benefit from growing plants to enhance lives, build stronger, healthier, happier communities and create better places to live.
We held our first flower shows in 1820, were granted a Royal Charter in 1861 and acquired RHS Garden Wisley, our flagship garden, in 1903. From our first meetings in a small room off London's Piccadilly, we have grown to become the world's largest gardening charity. At our gardens and shows and through our scientific research, publications, libraries and our education and community programmes we inspire a passion for gardening and growing plants, promote the value of gardens, demonstrate how gardening is good for us and explain the vital roles that plants undertake.
The RHS is committed to bring the joy of gardening to millions more people, inspire the next generation of gardeners and invest in the future to safeguard a £10.4 billion industry employing more than 300,000 people. We are entirely funded by our members, visitors and supporters. RHS membership is for anyone with an interest in gardening. Support the RHS and help us secure a healthy future for gardening. For more information call: 020 3176 5820, or visit www.rhs.org.uk/join
RHS Registered Charity No. 222879/SC038262