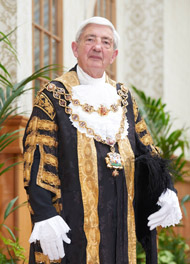 Birmingham City Council's Deputy Lord Mayor Cllr Raymond Hassall passed away on Thursday night at the age of 74 at his Erdington home.
The council lowered the City's flag to half-mast today as a mark of respect.  The flag will be lowered again on the day of his funeral, the date of which is yet to be arranged.
Birmingham's Lord Mayor, Cllr Carl Rice, said:  "I am deeply saddened by the death of the Deputy Lord Mayor Cllr Ray Hassall. We served together on the City Council for over 25 years and shared a mutual love for sport and the arts. Birmingham has lost a great public servant who put people before party politics. A truly sad day for the City."

Leader of the Liberal Democrat Group and ward colleague, Cllr Jon Hunt said: "Ray has been my friend for 30 years and my colleague in Perry Barr Ward for 13 years. But I am among many people who will deeply miss Ray's unique personality.

"In spite of personal sorrows, he always remained cheerful and rose to the highest office in Birmingham, a job for which he was almost made. I am so glad he achieved his dream of being Lord Mayor of this city."

He added:  "Ray had undergone major surgery in December for a life-threatening condition.  His death has stunned his friends and colleagues. He had appeared well on the road to recovery and had begun to resume duties and activities in the ward – but sadly it appears his recovery was temporary."
The Lord Mayor's Deputies will cover some events in March on behalf of the Lord Mayor.  Councillor Jon Hunt has also advised that Councillor Paul Tilsley will act as Deputy Lord Mayor going forward.
The Lord Mayor's Parlour will accept letters of condolence to pass to Cllr Hassall's family.
Councillor Raymond Geoffrey Hassall
He was a Liberal Democrat Councillor, and has served the Perry Barr Ward since being elected on 3 May 1990.
Lord Mayor, May 2015 – May 2016, Deputy Lord Mayor, May 2016 – 2017.
During his time on the City Council he served as a member on the following Committees:
Leisure Services Committee (1990-2000), Allotments and Smallholdings Sub (1990-92), Appeals Sub (1991-92 & 1996-97), Grant Aid Working Party (1995-97), Visits Working Party (1998-99);
Planning Committee (1990-99), Appeals Sub (1995-97);
Public Health and Environmental Protection Committee (1994-96), Environmental Forum Sub (1994-95), Appeals Sub (1995-96), Birmingham Trade and Consumer Panel Sub (1995-96);
Environmental Services Committee (1996-99), Appeals Sub (1996-97), Environmental Forum Sub (1996-99), Waste Management Sub (1996-99), Birmingham Trade and Consumer Panel (1997-99);
Environmental Management Group Committee (1999-2000);
Development Control Committee (1999-2004);
Environment (Agenda 21) Policy Panel (1999-2000);
Communication Strategy Policy Panel (1999-2000);
Leisure, Culture and Tourism Advisory Team (2000-02);
Involved People/Modern Council Overview & Scrutiny Committee (2001-02);
Adviser to Cabinet Member for Leisure, Sport and Culture Portfolio (2002-04);
Co-ordinating Overview & Scrutiny Committee (2004-2006);
Leisure, Sport and Culture Overview & Scrutiny Committee (2004-06) – Chairman (2004-06);
Health Overview & Scrutiny Committee (2005-06);
Transportation and Street Services Overview & Scrutiny Committee (2005-06);
Cabinet Member for Leisure, Sport and Culture (2006-09);
Cabinet Committee (2006-09), Cabinet Committee (Devolution) (2006-08), Cabinet Committee (Property) (2006-09), Cabinet Committee (Highways Maintenance and Management Private Finance Initiative) (2006-09), Cabinet Committee (Achieving Excellence with Communities) (2008-09), Cabinet Committee (Birmingham Academies) (2008-09), Cabinet Committee (Procurement) (2008-09);
Public Protection Committee (2009-12);
Employment and Human Resources Committee (2012-15);
Trusts and Charities Committee (2012-14);
Personnel Appeals Sub Committee C (2012-15);
Standards Committee (2013-14);
Corporate Resources and Governance Overview & Scrutiny (2016-17);
Personnel Appeals Dismissals Sub (2016-17);
Lord Mayors Advisory Group (2016-17);
Also serving on the;
West Midlands Local Government Association (1998-2001 & 2002-03 & 2004-05)
WMLGA – Leisure and Tourism Committee (1999-2000)
WMLGA – Regeneration and Environment Committee (1999-2000)
WMLGA – Provincial Council (2000-01)
WMLGA – Regeneration Conference (2002-03)
West Midlands Regional Planning Partnership (2003-04)