HSBC to create the head office of ring-fenced bank in Birmingham
•    Around 1,000 roles will relocate to Birmingham
•    Global bank to serve its UK personal and business customers from Birmingham
•    HSBC joins a growing number of international firms locating in the city
•    Move to Arena Central is the largest property deal in Birmingham since 2002
Global bank HSBC has today (Tuesday 24th March) announced that it will be locating the national head office of its ring-fenced bank, which will serve its personal and business customers, in Birmingham city centre.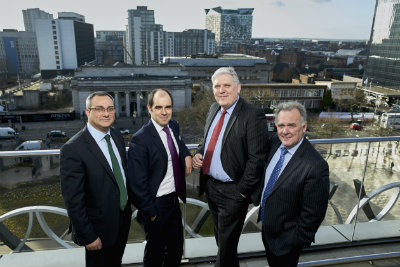 The move will involve relocating some 1,000 roles currently based in London to Birmingham from mid-2017 onwards. The creation of a ring-fenced bank is in response to the Financial Services (Banking Reform) Act 2013 and must be completed before 1 January 2019. HSBC's decision to create the head office of its UK ring-fenced bank in Birmingham follows a review by the bank of a number of possible head office locations.
Antonio Simoes, Chief Executive Officer of HSBC UK, said: "We have been looking at options for the head office of our ring-fenced bank for some time. It became clear to us that Birmingham would be the right location. The city is close to London, but also brings us within easy reach of our 16 million customers based across the UK. Birmingham is a vibrant, growing city that has the expertise and infrastructure to support our ring-fenced bank and brings us a step closer to our ambition of being the bank of choice in the UK."
The bank has been supported by Birmingham City Council and inward investment agency Marketing Birmingham – and its employees will continue to be assisted throughout the relocation process.
Sir Albert Bore, Leader of Birmingham City Council, commented: "HSBC joins a number of global companies that want to be a part of Birmingham's accelerating growth and strong economic prospects.
"Birmingham is changing for the better. We are investing heavily in the city's future, with major projects including the redevelopment of Birmingham New Street station due to complete this year and other transformational schemes now underway. A local network of public and private sector partners are forming entrepreneurial partnerships, sharing ideas and implementing ambitious plans for the future of the city.
"We look forward to welcoming the new head office of HSBC's ring-fenced bank to Birmingham, and will continue to support and advise the bank as its plans move forward."
HSBC already has close connections with Birmingham. Midland Bank, which was founded in the city in 1836, was acquired by HSBC in 1992.
HSBC is in advanced negotiations to conclude the acquisition of a 250 year lease on a new office comprising 210,000 sq ft at Arena Central. Arena Central is part of Birmingham's Enterprise Zone within the city centre. It is the largest property deal to take place in Birmingham since 2002.
Legal documents are expected to be signed in the next few days and a reserved matters application for the new building has been submitted. Development of the site is anticipated to start by June 2015. Birmingham has the best real estate investment prospects in the UK – and is sixth in Europe – according to a report by PwC and the Urban Land Institute*.
Andy Street, Chair of the Greater Birmingham & Solihull LEP, said: "HSBC's move to Birmingham will enable the bank to capitalise on all the benefits the city can offer. Supported by the Birmingham City Centre Enterprise Zone, we are ploughing new funding into the local area to boost its connectivity, skills and infrastructure.
"The economic revival of Greater Birmingham is gathering pace, led by highly valuable industries such as financial services. It underlines the city's position as a UK business hub and a prime location for professionals building their careers. HSBC's new head office at a site within Birmingham's Enterprise Zone will provide a tangible reminder of the scale of investment we are now attracting into the region."
Greater Birmingham is the UK's leading centre for financial services outside London. It has the largest business, professional and financial services (BPFS) industry in the country, with more than 21,000 companies employing some 220,000 people in the region. The industry generates £15 billion annually for the local economy.
The firm will be joining a number of other international BPFS companies that have set up a base in Birmingham. German banking giant Deutsche Bank has drastically grown its operations in the city – while US architect Gensler and law firm Hogan Lovells, which is headquartered in London and the US, have also recently located in Birmingham.
Phil Miller, Chief Executive of Miller Developments, added: "HSBC's commitment to Birmingham is great news for the city and their choice of 2 Arena Central is a tremendous boost for the development. This will enable us to push ahead with realising the full scale of the scheme and deliver HSBC's requirements and our vision for this key site in the heart of the Enterprise Zone."
A growing number of businesses are locating in Birmingham. The Greater Birmingham & Solihull LEP area attracted a record 77 foreign direct investment projects in 2013/14, the highest on record and more than any other area. Birmingham welcomed more start-ups than any other city in 2014 – a total of 18,000 new companies**.
The city's thriving business environment is also attracting an influx of young professionals to the city. Some 5,500 Londoners in their thirties moved to Birmingham last year alone – the highest of any regional city – and Birmingham is internationally recognised as having the best of quality of life of any UK city outside London***.
Ends
* Emerging Trends in Real Estate 2015
** StartUp Britain
*** Mercer Quality of Living 2015 survey
Notes to editor
Accompanying image: (l-r) Neil Rami, chief executive of Marketing Birmingham; Antonio Simoes, Chief Executive Officer of HSBC UK; Alan Keir, Chief Executive of HSBC Bank plc; and Sir Albert Bore, Leader of Birmingham City Council in front of the Arena Central site
For images, interviews and other requests, please contact:
Rebecca Bannister, PR Manager, Marketing Birmingham, 0121 202 5112, rebecca.bannister@marketingbirmingham.com
Tom Marlow, PR Executive, Marketing Birmingham, 0121 202 5088, tom.marlow@marketingbirmingham.com
Rabia Raza, PR Executive, Marketing Birmingham, 0121 202 5002, rabia.raza@marketingbirmingham.com
Siobhan O'Shea, Senior Media Relations Manager at HSBC, siobhan.oshea@hsbc.com / 020 7991 4927 / 07468 704685
Cost and copyright free images of Birmingham can be downloaded on the Birmingham Toolkit. For a press pack about 2015 in Birmingham, please click here.
Marketing Birmingham
Marketing Birmingham, the city's strategic marketing partnership, operates the city's leisure and business tourism programme, Visit and Meet Birmingham as well as its inward investment programme, Business Birmingham. The company is funded by the public and private sectors, including Birmingham City Council, European Regional Development Funding and some 400 local companies.
Business Birmingham
Business Birmingham is the city's official inward investment programme, part of Marketing Birmingham's destination marketing strategy. Supported by the European Regional Development Fund, through the Investing in the City Region project, Business Birmingham aims to position Birmingham, the Black Country and Solihull as leading inward investment locations and major engines of UK growth. For more information, visit Business Birmingham's website or sign up to its newsletter.
Arena Central
Arena Central is a joint venture between Miller Developments and Pro Vinci Asset Management, comprising a circa £400m development masterplanned for up to 1.5 million sq ft of mixed-use development, comprising offices, hotel, residential, leisure and retail space, car parking and a public square forming the centrepiece of the development. Existing buildings on the site include Alpha Tower and the Crowne Plaza Hotel.
The vision for Arena Central is to create a number of 'oven-ready' development plots, all of which will be set within an inspirational public realm with a uniquely landscaped pedestrian walkway – designed to echo the urban styles of New York's High Line, the Promenade Plantee in Paris and London's own Olympic Park – running through the heart of the scheme.