Cllr Paulette Hamilton, cabinet member for health and social care, talks about how we must be bold and imaginative if we are to truly transform adult care.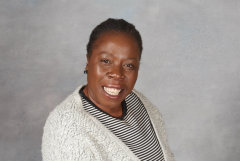 It is a year now since discussions around the Birmingham and Solihull STP (Sustainability and Transformation Plan) began and following agreement on priorities, governance and our triple aim of better health, better care and lower costs, it has now been published.
Throughout the summer I met with the system leads from the acute and provider sides to discuss their top issues and see how we could work together to ensure integrated social and health care, and crucially to see what the current blockages are.  Ultimately, we all want to see people living healthy, fulfilling and independent lives.
So it was good to see that all system leaders welcomed the STP process and genuinely wanted to see proper integration, and there was much discussion about the need to reduce hospital stay through greater prevention and social care support outside of these settings.
So with representatives from across the health sector, it has to be system led not organisational; that is the only way to achieve proper transformational change.
However, during these discussions it soon became apparent that the STP was too focussed on health, with social care being overlooked.   Following political intervention across Birmingham and Solihull we were able to ensure social care was included properly in the plan, looking at challenges and service gaps.
I have always been absolutely clear that the STP is the right process, and here at the city council we are fully committed and supportive to a collaborative process. The urgent crisis facing the citizens of Birmingham from a collapsed social care system can only be addressed through an imaginative whole system redesign. People need to be reassured that the published STP is not the final version but just the start of a transformation process, and that we will focus on people not organisations; if we don't, the system will remain fractured.
We know we have a very challenging time going forward but I firmly believe we are on the right path with health and social care integration through the STP.  I truly believe this will happen; although I am sure there is going to be a number of hurdles that we are going to have to jump over to achieve this goal and the funding challenges will remain if the government continues down this road of austerity.
I believe we have the right people in place to drive this forward. Our chief executive Mark Rogers remains the system lead and alongside the council leader Cllr John Clancy they both have voting rights on the STP Board. The leader of Solihull council Cllr Bob Sleigh is in place as the Chair of the Birmingham and Solihull STP.  Through their continued involvement and passion for a true place-based care and focus on prevention, I believe that we will see a more transparent and democratic process emerging.
Although I am not leading the process and do not have voting rights on the system board, I will instead retain a steady focus on developments, so I can best influence and shape the process going forward.
Ends