An infographic outlining various facts and figures relating to Birmingham City Council's waste management service has been published.
It outlines that in the forthcoming financial year (2016/17), the council needs to save approximately £6.7million from its waste management budget as a result of central government funding cuts –  meaning the council has to make decisions on how to change the way it does things.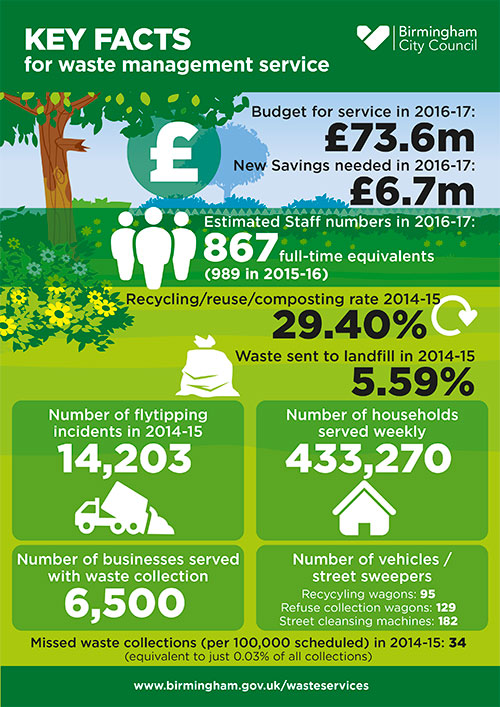 *Figures and estimates correct as of February 2016*
A service improvement plan for waste management is being developed, a three-year communication and engagement campaign is being finalised and a future waste strategy, covering the post-2019 period, is being prepared. Some of the key things being focused on at present are:
• Community Composting – we are working to identify potential sites across the city, working with communities to develop these proposals. The aim is to offer local alternatives for those who are unable to get to the city's Household Recycling Centres or do not wish to subscribe to the council's garden waste service.
• Process review (missed collections) – Each legitimate missed collection is a service failure for the household concerned.
In order to minimise this, crew performance is being monitored and efforts are being put into raising levels of productivity. A full end-to-end review is also being carried out into the process of reporting missed collections.
• Performance management reporting project – Work is underway to ensure performance data is presented to the audiences with an interest in how well the council is doing. Externally, the council published its first street cleansing data dashboard (based Environmental Quality Survey for each of the city's 40 wards) in February 2016, as part of the Leader's commitment to the open data agenda.
Internally, performance reporting is being radically overhauled to ensure all levels of management have the information they need to drive productivity, performance and efficiency improvements.
• Route optimisation + in-cab technology roll-out – Improved technology is being utilised to ensure that refuse collection crews are operating in the most effective and efficient way to help minimise missed collections. Crews will now be supported with in-cab IT that enables them to communicate with depots and the contact centre so citizen queries can be handled more productively. Another feature of the new IT is smarter planning of round routes – with collections being done in the right place at the right time.
For more details on the various services offered by the council, visit: www.birmingham.gov.uk/wasteservices
To download a copy of the infographic, please click here