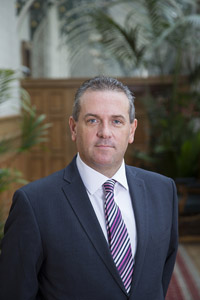 The leader of Birmingham City Council, John Clancy, has welcomed the launch of the Midlands Engine strategy and described investment proposals as "a vote of confidence in Birmingham".
Councillor Clancy said he looked forward to a planned £10 million extension to Symphony Hall, and would throw his weight behind a suggestion that the Government art collection could be moved to Birmingham.
Proposals announced by the Department for Communities and Local Government yesterday include:
£54.2 million from the Local Growth Fund for the Greater Birmingham and Solihull Local Enterprise Partnership.
 £250m Midlands Engine Investment Fund.
 Up to £10 million to improve University Station in Birmingham, to reduce overcrowding.
 £5 million funding for developing a Midlands Rail Hub – a programme of rail upgrades that could provide up to ten additional trains per hour into central Birmingham.
Up to £7 million for the Birmingham Thermal Energy Demonstrator to support low-carbon technologies.
Development of a Midlands Engine Investment Hub in Birmingham to drive capital investment across the West Midlands region.
Invitation for Birmingham to develop proposals for 5G testbeds.
The strategy includes a £20 million investment to close the workforce skills gap, and to support employers to help employees with mental health issues.
The Government released details of a Trade and Investment Programme to demonstrate that Birmingham and the Midlands is open for business in a post-Brexit landscape.
Councillor Clancy, who also holds the economy portfolio on the West Midlands Combined Authority cabinet, said: "There's been a lot of talk about the Midlands Engine, and we are now finally being given some details which on the face of it seem to be a big vote of confidence in Birmingham.
"This is a creative city and a creative region, so I particularly welcome the Midlands Engine Investment Fund and the commitment to make sure small and medium sized businesses are at the heart of our drive to create inclusive economic growth.
"Expanding Symphony Hall and bringing the Government art collection to Birmingham will further enhance this city's reputation as a significant tourist destination and one of the country's leading arts and cultural attractions.
"If the Midlands Engine is to succeed in closing the skills gap, generating jobs and inclusive economic growth, and creating the wealth to drive the economy forward, then Birmingham in particular must take a lead in battling for investment in a post-Brexit world.
"I'm determined to sell Birmingham on the world stage. I visited China, Hong Kong, Malaysia, and Singapore last year, I was in Qatar in January, and it is clear to me that not only do foreign investors have the money they want to do business in Birmingham.
"At the end of this month the International Convention Centre will stage the Qatar-UK Business and Investment Forum, the first time this prestigious event will have been held outside of London. This is an indication of serious intent from potential investors who see in Birmingham and the West Midlands tremendous opportunities to deliver our ambitious housing and regeneration schemes."