Birmingham Winter Maintenance Service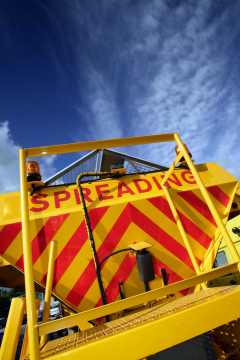 Amey Birmingham Ltd undertakes the Winter Maintenance Service under the Highway Maintenance and Management PFI partnership for Birmingham.
Duty officers monitor both road and weather conditions around the clock during the winter period, analysing all information available which enable them to make an informed decision on when to grit the roads.
This service operates from the end of October through to the middle of April each year and during this period a fleet of gritters, together with associated equipment, is on standby 24 hours a day ready to treat the roads when required.
If frost or ice is expected to form on roads or snow is anticipated we will carry out precautionary salting (gritting) of the priority highway network. Link to gritting routes by name. This will involve spreading rock salt onto the carriageway which helps to prevent both icy patches and snow accumulations forming.
The pavements within the core of the city centre and Sutton Coldfield also receive precautionary treatment if frost or ice is expected to form on them or snow is anticipated. Other pavements in local shopping centres are cleared of snow when icy conditions persist and resources become available. When severe weather persists every effort is made to clear snow from pavements around shopping centres, hospitals and railway stations.
In addition to treating the roads and footpaths on a priority basis there are 1236 highway grit bins on the highway network as an aid to road safety.
Please let us know if a grit bin needs refilling or has been damaged or vandalised or about any winter maintenance that you feel we may need to carry out. This includes such things as refilling a grit bin or an emergency gritting treatment to a road but please be sure to read the overview first click here to request this service.