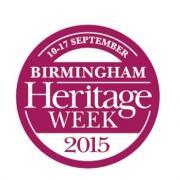 Birmingham Heritage Week, which begins today (September 10) and runs until September  17, is a celebration of the people and events which helped shape the city as we know it today – but how much do you really know about Birmingham's history?
Cllr Phil Davis, Heritage Champion at Birmingham City Council, has compiled this list of 10 things you may not have known about the city's rich heritage:
It is well known that Birmingham has more miles of canal than Venice, but did you know that Birmingham's canal network was started by James Brindley in 1769?
The first man-made plastic, known as Parkesine, was invented in Newhall Street, by Alexander Parkes. He patented the product in 1862.
Birmingham has had an anchor as its hallmark since the 18th century, despite being more than 100 miles from the nearest coastline. This is because Matthew Boulton, founder of the Assay Office, used to meet fellow campaigners for this quality guarantee in the Crown and Anchor Inn in London. They chose the symbol there.
The Black Horse pub, in Northfield, was recently awarded Grade II* listed status by English Heritage. The pub, built in 1929, was one of just 21 hostelries built between 1918 and 1939 to be protected. At least 5,000 pubs were built during the inter-war years, but few survive today, making the Black Horse all the more significant.
The Grade I-listed entrance building to the former Birmingham Curzon Street railway station is the world's oldest surviving piece of monumental railway architecture, having been built in 1838. When operational the station was the Birmingham terminus from Euston station. Unlike Curzon Street, Euston controversially lost all its Victorian buildings in 1962.
Austin Village, between Longbridge and Northfield, was built in 1917 by Herbert Austin to house the additional workers needed to support the war effort at the Austin Motor Company factory during the First World War when transport was limited. Austin had 200 red cedar wood pre-fabricated bungalows shipped over from Michigan, USA, surviving potential loss by U-boat attack. The bungalows were sold after the war, when fewer workers were needed, and today the estate forms the Austin Village Conservation Area.
In addition to being Birmingham's biggest park, Sutton Park also has huge historical significance. The park contains a preserved section of a Roman road and signs of an ancient encampment thought to be either Roman, Mercian or Norman (or possibly all three).
Sutton Park's woodlands were also used as hunting grounds by Henry VIII, who gifted the park to the people of Sutton Coldfield in 1528 at the request of his friend, Bishop John Vesey.
Sarehole Mill, a Grade II-listed water mill built in 1542, provided the inspiration for the mill at Hobbiton in JRR Tolkien's 'The Lord of the Rings'. Tolkien lived within 300 yards of Sarehole Mill as a child and would have been able to see it from his house.
The ruins of Weoley Castle are among the oldest buildings still visible in Birmingham today. Originally built more than 750 years ago, it had fallen into ruin by the mid-17th century and stone from the castle was used in the construction of canal bridges when the Dudley Number 2 Canal was built in the late 18th century.
 Further information on Birmingham Heritage Week, including a full list of events, can be found at www.birminghamculture.org/heritage-week.
-ENDS-