Sam & Keith Portman
Sam's reason for taking part in the Birmingham Half Marathon was for no other reason than personal challenge. Whilst not an unfit person, I have never been a regular runner. I have taken part in the odd Race for Life over the years but had not really run on a regular basis since moving house 3 years previously. Even then it was only intermittent basis with a neighbour.
I have always admired people who run long distance but have never thought I could do so myself. Having decided to run in the Great Midlands fun run at the last minute and having enjoyed taking part despite no training, I realised with a bit of effort and a training plan, a half marathon was achievable.
From that point I then became determined to challenge myself and complete a half marathon. By coincidence within a month or two, I heard the Birmingham half marathon advertised on the Heart FM radio and my mind was made up! My husband was not interested at all in joining me but having nagged him constantly, when I came to enter online, he suddenly changed his mind and entered too.
We followed a twelve week training plan from a website linked from the EDF Half Marathon web site called rookie marathon .com, and simply followed the schedule which consisted or four runs a week, always finishing with the longest run at the weekend. We didn't stick to the plan religiously as our longest distance prior to the big day was 10 miles, on the basis that the crowds would carry us for the remaining 3 ….which they did!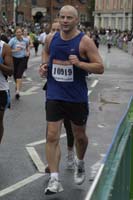 That said, we did give up our evenings and weekends, which as a full time working mum is not easy, and we even stuck to the training plan whilst we were on our summer holidays in Spain.
We are not members of a gym but we are lucky enough to live within walking distance of Sutton Park, which is a fantastic place to run and was where we ran on the long weekend runs. In the week day runs, we just took to the pavements around Sutton.
On the day of the race, my husband ran with me, even though he could have easily ran on, and together we ran it without stopping once. It was a fantastic occasion, I was amazed at the support from residents all around the course, and passing the finishing line was the best sense of achievement ever.
My advice to anyone considering taking part in this year's race is that with a bit of determination, a structured training plan and a decent pair of trainers, you can do it. I am nothing special, just a full time working mum of 2 kids aged 9 and 13, who gave up her precious spare time and if I can do it others can too!
Manjit Uppal
I train by running every other day, usually about 3/4 miles in the week and then 6/7 miles on Saturday, I train with a guy called Esra who runs Ace Fitness on a Saturday at Sandwell Valley, we build up the run to 10 miles leading upto the marathon. I am a black belt in Yin Yang freestyle martial arts, I train 2 nights a week. With my Ace fitness group I do 1 or 2 circuit training classes with light weights. I use my local swimming baths and gym at Perry Beeches Leisure Centre. I am an Assistant manager and coach for an under 15s boys football team.
 
I started running following my mum dying from heart disease at the age of 49, she had her first heart attack at the age of 39. I am very conscious about my health and try to take care of myself and my family by having lots of exercise and a balanced diet.
 
I work as a Learning Mentor at Hamstead Hall Community Learning Centre and I love my job, I have 2 boys Jordan 15 and Ryan 9 and I have been married to my lovely husband mani for 19 years.
Geoff Coleman
It was my first half marathon – I'd previously run up to 10 miles. I aimed to finish inside two hours and missed out by just 25 seconds but I did have an excuse.
With about four miles to go I spotted a runner a few hundred yards in front of me staggering and clearly in trouble. People were running past him but I didn't feel right ignoring him and just caught him as he fell backwards. I then helped him to the side of the road, gave him my drink bottle and asked spectators to get the medics. I then ran on.
It was only after I'd finished that I realised I'd hurt my knee helping the man and within less than an hour it had swollen up and I could hardly walk.
The pain was worth it though and I'll be running again this year, hoping to beat the two hours mark.
Jenny Turner & Sally Tanski
Jenny Turner and Sally Tanski were first time entrants in the 2009 EDF Energy Birmingham Half Marathon. Jenny and Sally have known one another for almost ten years, initially working together and then becoming good friends. Their previous running experience had included some 5k Race for Life's and a few 10k events, so this was a serious step up for them! Their decision to take part was motivated by the loss of Sally's fiancé, Trevor Bailey, who died from leukaemia in 2008, aged 45. Trev's premature and very sudden death has made many people who knew him realise that "life's too short" not to do all the things you want to do. It's a cliché, but a very true one. Both Sally and Jenny wanted to do something positive to help others with this illness and realised that "life's too short" just to talk about it ˆ and so they decided to sign up for this event, and get started on the training needed to be ready to compete in a half marathon.
 
Throughout their training, Sally and Jenny were supported by family and friends who believed in their ability to successfully complete the event. Jenny has two very young children, Morgan, aged 3 and Harvey aged 1,  which as every other mum will concur makes for a very demanding job, while Sally runs her own business, so finding time (and energy!) to train was always going to be an issue. However, what the pair learned from this experience is that anything is possible if you're surrounded by people who believe in you! From practical support (baby sitting, hints and tips on running techniques) to generous sponsorship, via pep talks, sympathy and post-run hot baths., friends and family rallied round and did all they could to make it as easy as possible for training to happen. Jenny and Sally met up regularly to train together and were pleased to notice their targets were magically being met, times were improving and most of all, and legs were hurting less!! Sharing the experience meant they could support one another through it and help keep one another focused and motivated.
 
So when the (slightly damp and drizzly!) day of the event dawned, both felt they had done all they could to prepare for it. Standing at the start line, knowing people were there, cheering them on and willing them to complete the route, the excitement and anticipation was almost unbearable, and it was a relief to finally get underway! The experience was amazing , the route lined with spectators, all of whom were shouting encouragement, praise and support, the camaraderie of other runners, and the joy of seeing  familiar faces and hearing voices you know telling you how well you're doing  all  added together to make the event unforgettable. And all that support paid off  – Jenny and Sally crossed the finish line together just 2 hours and 10 minutes after they started , a very respectable time of which they are very proud! As were the friends and family who gathered at the finish line to wave banners, shout final words of encouragement, provide hugs and help the pair celebrate!
 
They are also very proud that between them they received over £3000 in sponsorship for the event, which was donated to Cure Leukaemia, a Birmingham based charity which provides facilities and equipment for world-class research, funds research posts and the development of new clinical treatments for leukaemia patients and supports scientists and clinicians in their determination to find a cure for all forms of leukaemia by 2015.  Not only did they raise £3000 from the run but they also decided that they should celebrate their Half Marathon success and organise a post half marathon Charity Ball entitled 'Because Life is Too Short' where they raised in excess of another £10,000 for the Cure Leukaemia cause.
 
So all in all, Jenny and Sally are really pleased that they made the decision to take part. The event itself was fun even enjoyable and very rewarding, and the training leading up to it gave them a chance to really test themselves and see what they were capable of (as well as get fitter than ever and fit into all those summer clothes along the way!)
 
Jenny and Sally believe that the support of their friends and family (and one another) played a big part in helping them succeed in this. They also know that it would have been possible to make lots of excuses not to do the event and training, children, work, family commitments etc. but the philosophy of "life's too short" kept them focused on their goals and meant they were able to achieve what they set out to do.