Want to get in trim and stay active without spending a fortune? There are plenty of ways to do just that in Birmingham this summer.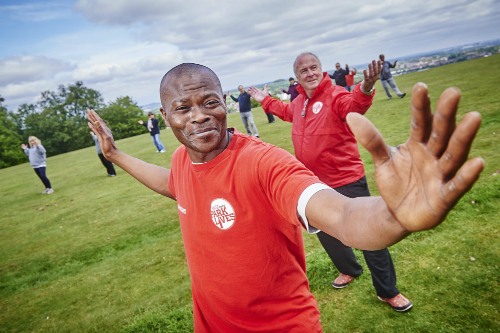 Try Tai Chi
Suitable for all ages and abilities, Tai chi combines deep breathing and relaxation with slow and gentle movements to help improve balance and stability. There are lots of FREE sessions in Birmingham parks each week.
Walk everywhere
Walking is underrated as a form of exercise, but it's one of the easiest ways to get more activity into your day, lose weight and become healthier. Research shows that people who fit moderate activity, such as walking, into their daily life burn more energy than those who make weekly visits to the gym. Try to fit walking into your routine or join one of our ParkLives walking groups
Try canoeing, rowing and sailing at Edgbaston Reservoir
You really can take to the water for FREE with ParkLives sessions at one of Birmingham's most beautiful spots.
Cycle to work
Cycling to work is one of the easiest ways of fitting exercise into your day. It'll also save you money on petrol or public transport costs. If you don't have a bike, you may be able to get a cheap bike through the Cycle to Work scheme.
Take the stairs
A study by the European Society of Cardiology suggests that taking the stairs rather than the lift can reduce your risk of premature death by 15% and is likely to reduce your waistline also. So forget taking the lift and start climbing. Find out more
Anyone for tennis?
Check out the FREE tennis sessions in Aston Park, Cannon Hill Park, Calthorpe Park and Ward End Park every weekend.
Join one of our Green Fit Baby sessions
At this outdoor fitness class, parents exercise alongside their babies, with pushchairs or prams. The sessions incorporate special exercises for postnatal mums.
Learn to Nordic Walk
Nordic walking is a full-body exercise that's easy on the joints and suitable for all ages and fitness levels. And there are now free sessions in parks across the city with ParkLives.
Take up running
With so many parks and the canal network, Birmingham is a great city for running. We have Couch to 5K classes for beginners in many city parks and a range of events including the Morrisons Great Birmingham Run
Join a conservation group
Not everyone wants to be an athlete but there are a number of ParkLives conservation sessions offering a weekly workout for the non sporty. Try Active Conservation at Lickey Hills Country Park or the Tuesday Conservation sessions at Woodgate Valley Country Park.
For lots more free physical activities check out www.parklives.com