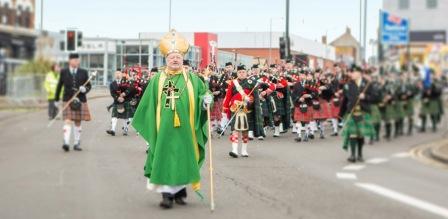 This year's St Patrick's Day Parade will take place in Birmingham on Sunday, March 13, when the theme will be the phoenix.
The centrepiece of celebrations enjoyed by the city's strong Irish community, the parade is organised by the St Patrick's Festival Committee and supported by Birmingham City Council's events team.
The parade will set off from Camp Hill at approximately noon and proceed along Deritend on the out of city carriageway into Digbeth High Street. It will then proceed along Digbeth, turn left into St Martins Lane and move back down Moat Lane, where it will turn back into Digbeth on the inner city carriageway.
At the Alcester Street junction, floats will proceed towards Camp Hill with marching bands turning into Alcester Street. The parade will finish at approximately 2pm, with the massed pipe bands marching down to the Irish Centre at 2.30pm, led by St Patrick.
The parade will include pipe and drum bands, along with vintage motorcycles, classic cars and Willie 'Fergus' Finnegan's massed tractors, plus many decorated floats.
An Irish market and food units will be located in Birchall Street and Chapel House, with children's rides and inflatables in Bradford Street car park. This area will be known as the Emerald Village, showcasing the best of Birmingham's Irish culture through food, craft stalls and live music.
An area around the Irish Centre, consisting of Bradford Street car park, Birchall Street, Chapel House, Stoneyard and Green Street will be closed to traffic. Road closures will be in place from 6am, with Digbeth High Street being re-opened at 6pm and closures around the Irish Centre being lifted at 7pm.
For further information, please visit www.stpatricksbirmingham.com.
-ENDS-