Birmingham awarded City of the Year at MIPIM UK, while Sir Albert Bore wins City Leader of the Year
 Award raises city's profile as top UK investment destination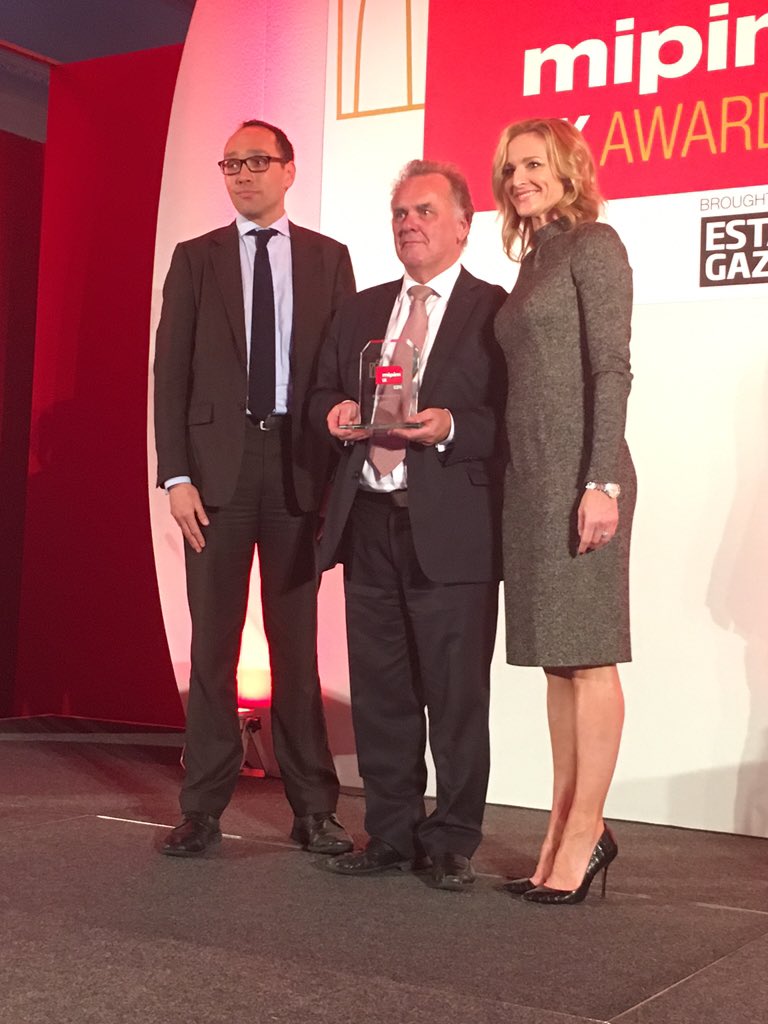 The £1 billion transformation of Birmingham, and the work of Birmingham City Council's Leader Sir Albert Bore, has won two prestigious awards at national property event MIPIM UK.
Birmingham won the coveted City of the Year title at the MIPIM UK Awards, held at London's Olympia on Thursday 22nd October, while Sir Albert Bore was awarded City Leader of the Year. A judging panel of 50 senior industry figures and the editorial team at national property title Estates Gazette selected the winners.
The awards recognise the work of the private and public sectors to revitalise cities and towns across the UK. MIPIM UK is the largest national conference for the property industry, which is attended by 4,500 delegates including international investors and several UK locations.
Birmingham has undergone a significant transformation in 2015, with milestones including the £600 million reopening of New Street station, £150 million launch of Grand Central shopping centre and its flagship John Lewis store, plus the £50 million redevelopment of The Mailbox and £150 million opening of leisure complex Resorts World Birmingham.
Sir Albert Bore, Leader of Birmingham City Council, commented: "It has been a remarkable year for Birmingham, with the city's revitalisation including the redevelopment of New Street station and a new retail offer spanning Grand Central, John Lewis and a transformed Mailbox. This has significantly boosted perceptions of the city as a place to visit and do business, by highlighting how truly dynamic and innovative Birmingham has become. It has been a privilege to lead Birmingham City Council during this time, and I am proud to see the city's success being recognised by the national property and investment community at MIPIM UK."
Birmingham has also been named the most investable city in the UK by PwC and the Urban Land Institute. The city was ranked as having the best investment prospects in the UK, and sixth most investable in Europe, by senior international investors. It is also the most entrepreneurial UK city outside London with over 18,000 new companies registering in the city during 2014, according to StartUp Britain.
Neil Rami, Chief Executive of Marketing Birmingham, added: "Judged by national property experts, the MIPIM UK awards demonstrate how Birmingham has become a UK hotspot for investment and economic growth. The city's £1 billion regeneration is attracting more interest from international and domestic firms than ever before, reflecting its growing profile as a highly competitive and welcoming location for forward-thinking companies and investors."
More foreign businesses invested in Greater Birmingham & Solihull during 2014/15 than any other LEP region, according to UK Trade & Investment. It attracted 73 new FDI projects, with investors including world-famous brands such as Jaguar Land Rover, extraenergy, HydraForce and Deutsche Bank. In 2015, Chinese automotive firm Changan and German manufacturer Guhring have both announced significant investments into the region – while global bank HSBC is locating the head office of its UK ring-fenced bank in Birmingham. HSBC has forward purchased the city's 210,000 sq ft 2 Arena Central site on a 250-year lease, demonstrating its long-term commitment to the city.
Commenting on the award wins, Antonio Simoes, Chief Executive Officer of HSBC UK, said: "Birmingham City Council has worked hard to revitalise the city and attract inward investment, making it an attractive and dynamic home for UK businesses and their employees. Marketing Birmingham prepared a fantastic pitch built on partnership and its ongoing support has been invaluable as work gets underway to create HSBC UK's new home in Birmingham and we move more than 1,000 head office roles here from London."
Estates Gazette editor Damian Wild added: "What impressed our judges was the innovation, diversity and tenacity shown by all the winners in areas where fresh thinking is desperately needed. Some of the projects will contribute to speeding up delivery of much-needed affordable housing, others will help rebalance the economy away from London."
Ends
Media contacts
Rebecca Bannister, Communications Manager, Marketing Birmingham, 0121 202 5112 / rebecca.bannister@marketingbirmingham.com
Tom Marlow, Senior Communications Executive, Marketing Birmingham, 0121 202 5088 / tom.marlow@marketingbirmingham.com